Spring is here and summer is just around the corner. You know what that means?
BBQs, pool parties, and nights hanging out under the stars. Don't worry if your backyard isn't ready for guests. We've rounded up some simple tips to help quickly transform your backyard into an entertainment oasis.
1. Ban the bites! No one wants uninvited guests showing up to the party, especially mosquitoes. Reclaim your backyard and ban the bites with Thermacell's LIV® mosquito protection system. Because of its customizable large-area coverage, the ability to control from your phone set automated schedules, and easy installation, LIV is a gamechanger for summer soirees. Don't just take our word for it, watch HGTV's Darren Keefe install his LIV system to stay mosquito-free all summer.
2. Clean off your furniture - A warm welcome goes well beyond a smile and hello, avoid your guests doing a double-take before they dare to sit down. Get rid of pollen, dust, dirt, and critters after wind and rainstorms, and keep your patio looking sparkling clean all season long. No time to powerwash, don't worry! Using a leaf blower or hosing down furniture and patio with a garden hose will go a long way before guests arrive (just make sure you leave enough time for the cushions to dry in the sun).

3. Create ambiance by bringing some indoor touches, outdoors. It doesn't take much to add some coziness to your outdoor spaces. Use outdoor pillows, soft throws, trays, and lanterns to warm up the vibe of your outdoor oasis. Thermacell's patio shield mosquito lanterns double as a beautiful functional light and powerful mosquito repellent. 
4. Have lots of guests?!? Turn your space into a BOHO chic vibe with some simple floor pillows. Garden stools and planters work great too for extra seating.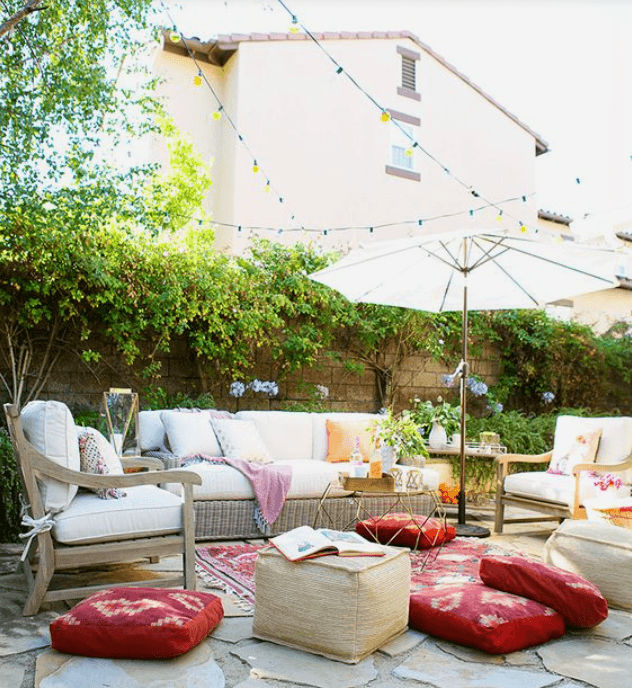 5. Keep your drinks chilled! We love this DIY idea that's simple, effective, and looks Oh-so-festive. Freeze some water balloons as an alternative to bagged ice.
6. Create your own signature cocktail. We're digging this refreshing cocktail right now, especially as it uses ingredients straight from the garden. With strawberry season upon us, it's right about the time to harvest from your garden or a local patch. Check out our blog on Cocktail recipes inspired by your garden for more creative ideas.
Strawberry Basil Martini
Ingredients:1 1/2 oz. vodka
1/2 lemon juiced
3 strawberries*
8–10 basil leaves
1 oz. club soda
splash simple syrup
Combine strawberries and basil in a shaker and muddle. Add vodka, lemon juice, club soda, and simple syrup (if the strawberries aren't sweet enough for you). Add ice and shake well. Strain in a chilled martini glass. Garnish with a lemon wedge or strawberry!